I offer three styles of cowling screws: Plain (no washer), one with protective plastic washer and one with a wide non-removable stainless steel washer.

The plain type is most common, but is known to scrape away the paint on your sheet metal when you tighten it. The plastic washer helps prevent that and does a great job, but some people may find the large plastic washer unsightly. The last option is the large stainless washer (which cannot be removed) because it hides the most existing damage and sits nice, low and flush. This is the style currently on my plane.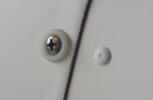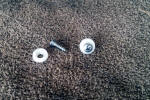 These are the plastic-washer screws.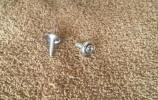 And these are the stainless-washer screws.
These screws are similar to Cessna Part Number S-1021Z-8-8 (aka AN530-8R8). They are found on countless Cessna aircraft on the cowling and inspection plates. They arrive from the manufacturer with a shiny stainless finish. As you know, this rarely matches your aircraft's exterior paint.
I am currently powder coating the heads of these screws to match (or closely match) your plane's paint. The most common color is white. I also offer blue, red and many other colors.
They are powdered in-house and shipped to you separate from each other so that they don't bump and rub around in transit.
Q: What is powder coating?
A: Powder coating is a durable baked-on finish, much more resilient than paint. These screws have an actual powder applied to them, then they are baked at 400° F for 25 minutes. The powder turns to a gorgeous liquid coating that dries hard and durable.
Q: Is it invincible?
A: No, of course not, but it is much more durable than spray paint or a touch up pen. As long as you're careful with your screwdriver, there will be no markings to the finish whatsoever.
Q: How close will the color match?
A: That is honestly hard for me to say. My plane is a 30 y/o combination of red, white and blue and the three powders I use to achieve each color are pretty darn close. Certainly better than the stainless finish and definitely close enough to leave installed on the plane.
Q: Can I send you my screws (or plates) to be powdered?
A: Yes, providing they are NON-STRUCTURAL. The heads will be polished clean of any residual paint or grime and powdered to your color of choice. Inspection plates or other small pieces can be powdered, as well. Check with your A&P before you send off any parts, though.
Q: Returns?
A: Returns are NOT accepted for color mismatch or incorrect part ordered. I suggest ordering one screw to minimize any potential loss to see if the color is close enough to satisfy you.
If you have any qualms about the legality of installing these screws on your cowl, inspection plates or anywhere else these part numbers are called for, you should consult with your A&P first.